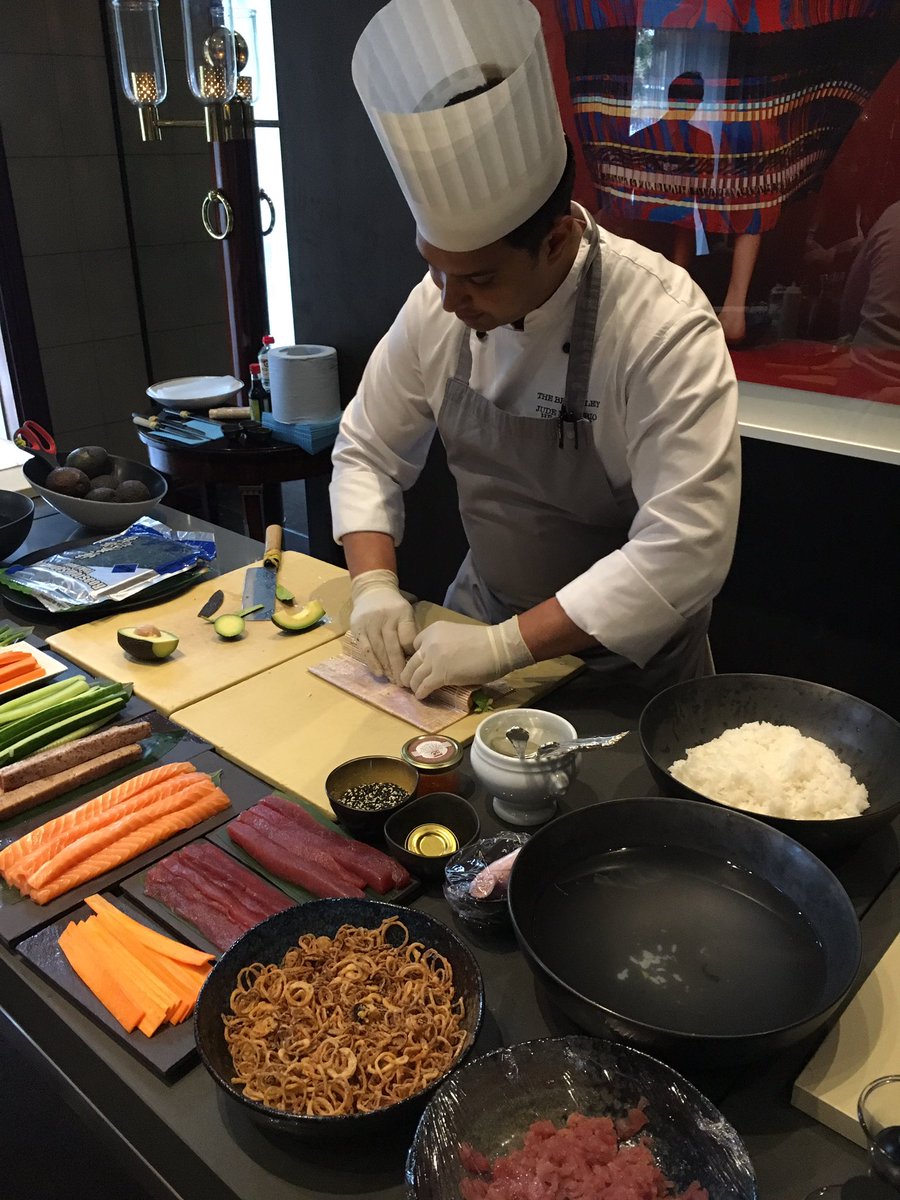 Our Year in Food 2017
Our Year in Food - 2017 
Being a venue finder isn't always hard work and long days in the office. One of the biggest perks of the job is getting out there and testing venues, sampling food and allowing them to ply us with copious amounts of booze. Every year our team get out to over 200 venues across the world, in 2017 we headed to Edinburgh, Sardinia, Berlin, Bristol, Los Angeles, Dubai and numerous other destinations in search of the perfect event spaces for our clients' events. Sometimes we can only spend 30minutes checking a new space out, other times we're there for the weekend. Food and drink is always at the top of our list when judging how praise worthy a hotel, restaurant or venue is, thankfully we're a hungry bunch and unafraid to pile on the pounds on behalf of our customers. We asked some of the team to highlight their best dish of 2017, eaten or drunk in pursuit of thorough research. 
Paul Moynihan, Director - wefindvenues; Makisushi - The Berkeley Hotel, Knightsbridge
From time to time I am accused of mild narcissism by those who know me best, therefore it seems fitting that my top food memory of 2017 was something I prepared myself. When The Berkeley Hotel invite you in to road test their new Sushi Masterclass you certainly don't turn them down, so back in August 6 of us headed off to try our hand at this ancient Japanese art. Becoming a Sushi Master takes 10 years, the first few of which are spent largely washing rice. Thankfully it took me just a few hours to learn all I needed to know and produce some incredible, and a few inedible, pieces of Sushi. The standout piece for my though was my Makisushi, or Sushi rolls perhaps to the uneducated. Filled with a sizeable slab of the finest fresh tuna, which I had delicately seared, a healthy dose of soy sauce and some immaculately cut cucumber, the bites just melted in the mouth. Given the time, patience, ingredients and tuition I could easily survive on these alone and be a very happy man.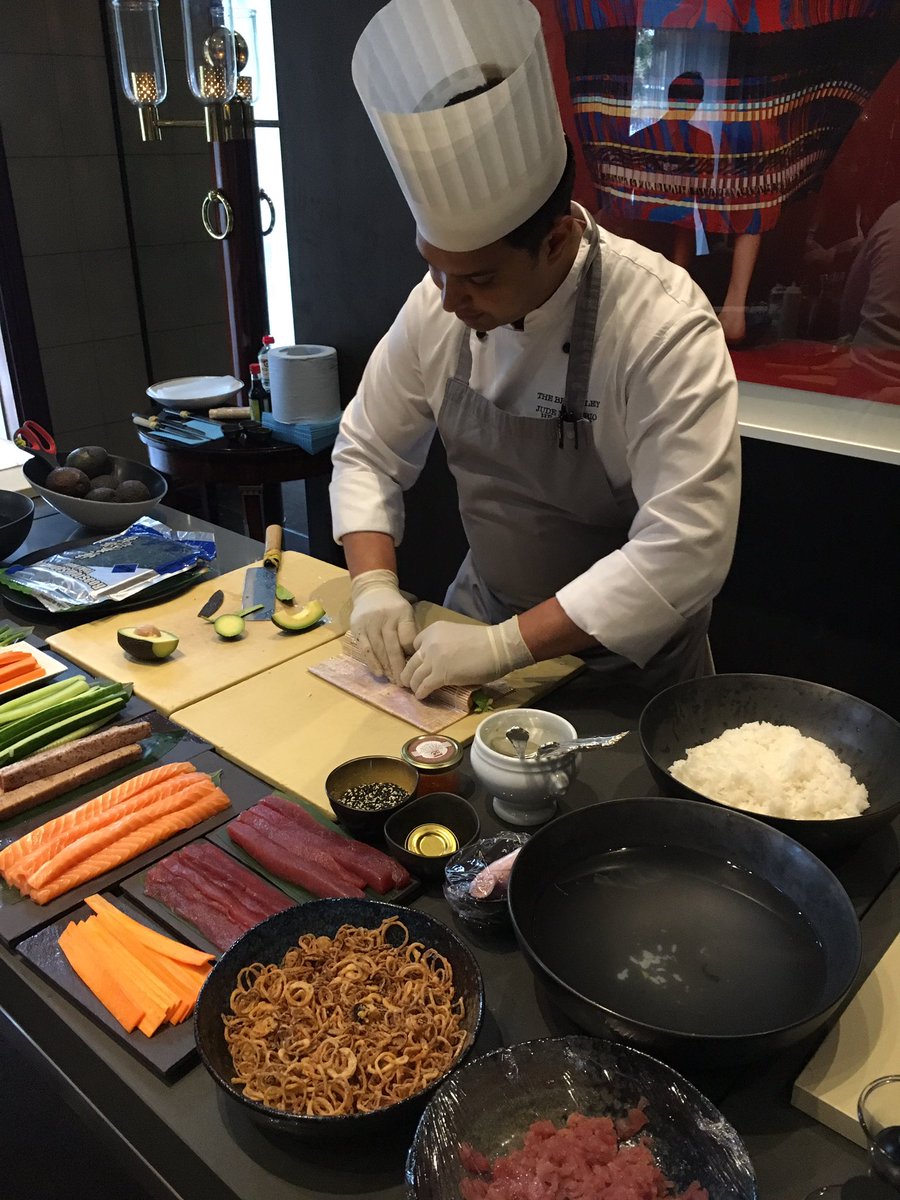 Sushi masterclass at The Berkeley Hotel
Alex Hewitt, CEO – AOK Events; Pint of Purity - The Lygon Arms, Broadway 
Sitting next to my colleagues in our Venue Finding Department, it seems that they are all out at a new bar, restaurant or hotel on a daily basis so when I was given the chance to spend a few days at The Lygon Arms, Broadway, between Christmas and New Year, I booked the dog into kennels, charged up my sons' iPads, told my wife to remember her wellies, packed up the car and off we shot. To say that the hotel was festive would be an understatement, with the 4 inches of snow that fell on our arrival day a real bonus. After a great night's sleep, we enjoyed a massive Lygon Arms Full English and set off on a four hour, snowy walk to the top of Broadway Tower, which was the absolute highlight of Christmas.  The pint of Purity that greeted me as I defrosted my frozen feet in front of the roaring fire was the closest thing to nectar imaginable. So good, I had to have another! 
Anna Hernandez, Marketing Manager – AOK Events; JW Cheesecake – JW Steakhouse at Grosvenor House
Working in the marketing department at AOK Events I very rarely get to see the light of day, so when I was offered the chance to join my colleagues in the venue finding team on a trip to Grosvenor House to eat at their in-house restaurant JW Steakhouse you couldn't see me for dust. After some incredible starters and mains, we were served desert in the form of their JW Cheesecake. Now, don't get me wrong I like a cheesecake like the best of us but it's not something I would normally go out of my way to order. Enter the JW Cheesecake. I would go so far out of my way to order this, I probably wouldn't find my way back. There is a reason why this simple cake has gain a cult status and I think the secret lies in the following: a) the amazing combination of soft cream cheese and sour cream b) the delicious, buttery biscuit casing c) the option to order it in three different sizes. I'll have a large to go please.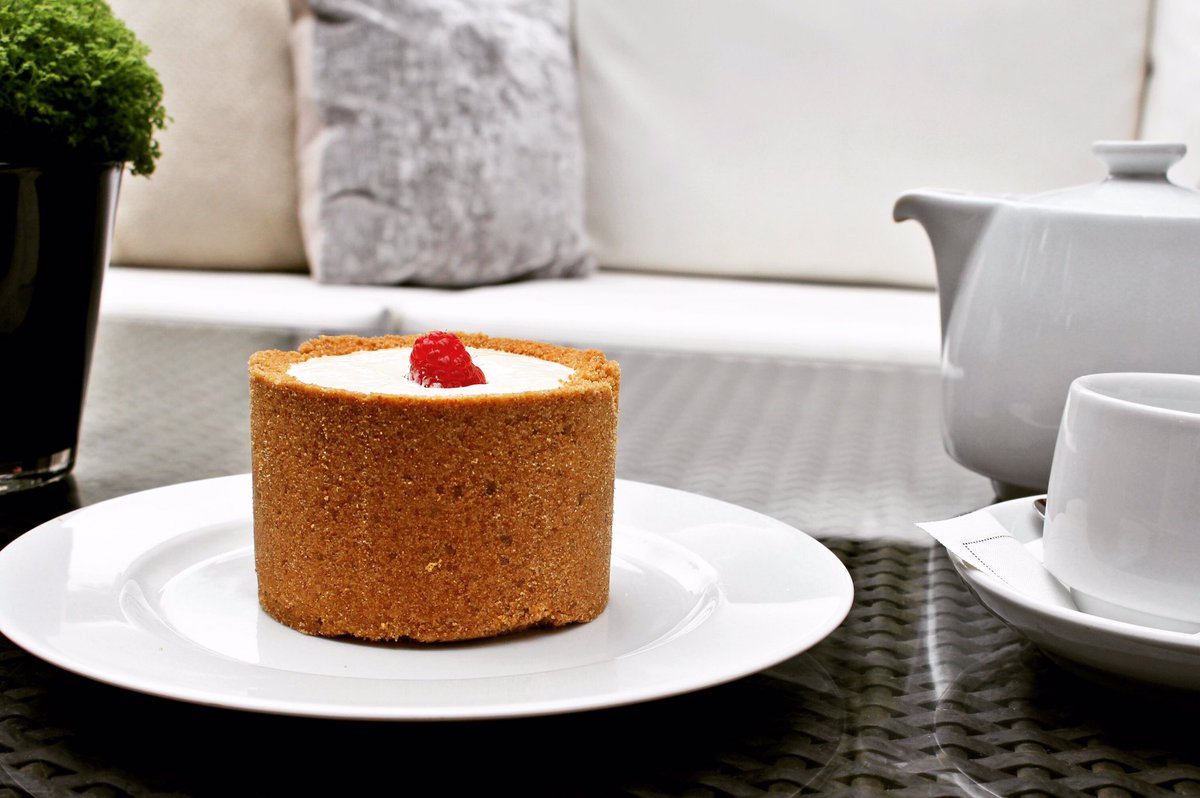 The JW Steakhouse's famous cheesecake
Hollie Barber, Venue Finding Executive - AOK Venues; Buffalo Ricotta with Black Truffle Ravioli - Tozi at the Park Plaza Hotel, Victoria
Italian is a very hard cuisine to go wrong with and is certainly a favourite of mine so I was very excited to be dining at the tapas styled restaurant Tozi. Although I was originally worried about how I was going to choose which dishes I would order that evening, our host recommended a few favourites that we should try, one of which being the Buffalo Ricotta with Black Truffle Ravioli. It has since become the best pasta I have ever had and I have returned to the restaurant since just for this particular dish. It is served as three small ravioli parcels, however the star of the dish is the black truffle garnish. Inside the pasta is a smooth and subtle buffalo ricotta which compliments the truffle beautifully. The silky butter emulsion makes it melt in the mouth and it leaves you wanting more! For those who love a decadent but simple and hearty Italian meal then this comes highly recommended. 
Suzanne Shaw, Customer Services Manager - wefindvenues; Hake Tempura - Eneko at One Aldwych
I was very intrigued when we were invited to dine at Eneko at One Aldwych, not quite sure what Basque cuisine was. Whilst looking at the menu over a glass of bubbles, the dishes were all very interesting, making choosing difficult.  Our host recommended the Hake Tempura, so I opted for that and was not disappointed. The fish was beautifully light and tender, encased in the lightest tempura batter I have ever tasted.  It was not at all greasy, but dry and crisp whilst not taking away from the creaminess of the hake.  The presentation was very simple with a bright green parsley emulsion lifting the colour of the fish.  Having started with egg yolks tempura, I am still wondering how any chef can deep fry an egg yolk in batter whilst keeping it intact and beautifully soft! It was a great first experience of Basque cuisine, rounded off with rose marshmallow, complete with dry ice.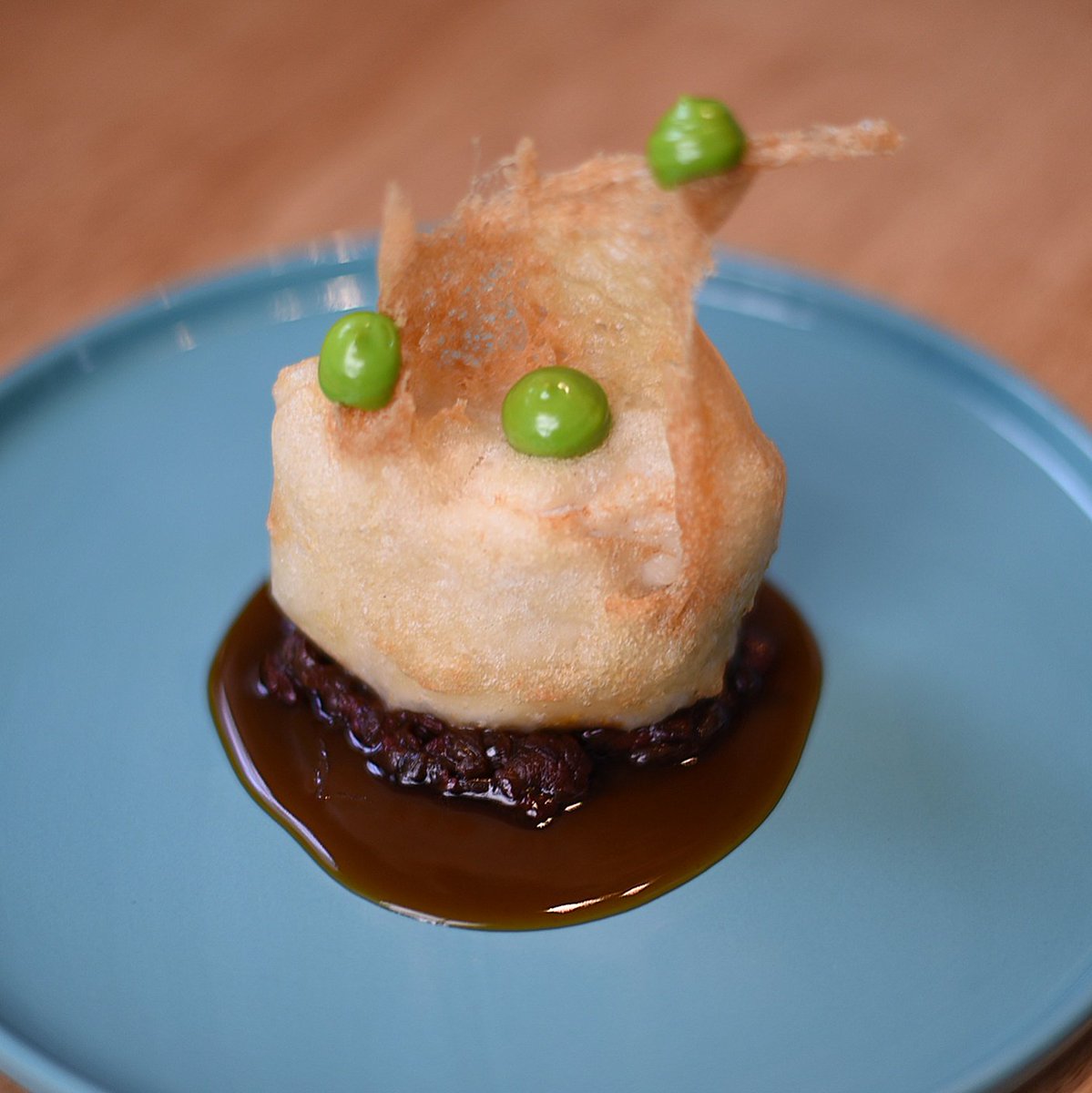 Hake Tempura from Eneko at One Aldwych
Emma Hind, Venue Finding Executive - wefindvenues; Pork Belly- The Game Bird at The Stafford
Being invited to The Stafford for the evening is not an invitation to be turned down, this hotel is tucked away in a little cul-de-sac just of Green Park, and is a quintessentially British destination with a huge amount of history and charm. The newly opened Game Bird restaurant, overseen by Chef James Durrant, is elegant yet inviting with a lovely cosy feel too it. The restaurant has received rave reviews from the likes of Jay Rayner and Giles Coren both singing it's praises for the quality of the food. This restaurant is slowly becoming one of the most talked about new openings in London. When looking at the menu, although many a good option, there was one clear winner for me and that was the pork belly. Some would say risky however I knew I was not going to be disappointed. The pork belly was beautifully crisp on the outside with bundles of flavour, yet at the same time so succulent it melted in your mouth. The dish was served alongside a beautifully silky pomme puree and some star anise carrots. The Game Bird had regained my faith that when cooked right Pork Belly is always a winner. 
Do you require a venue for a meeting, conference or event in the UK? If so click here to make a free enquiry and see up to the minute availability and prices for suitable venues.